Accident at work and dismissal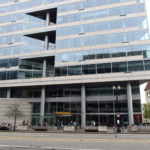 If an employee participates in an accident at work, such employee may receive sickness benefit (for a period of 182 days) and then a rehabilitation benefit (for a period of 3 months). If, after the end of the rehabilitation benefit, i.e. the first day after the expiry of 3 months from receiving this benefit, the employee who suffered an accident shows up at the workplace, then the employer has no right to dismiss him.
However, if such an employee came to work as early as 2 days after the end of receiving a 3-month rehabilitation benefit or begins to receive a rehabilitation benefit for more than 3 months, in such a situation the employer may dismiss him without notice.
In the event of dismissal without notice (rehabilitation benefit over 3 months or failure to appear at work on the first day after the end of the benefit), if up to 6 months after termination of employment, the employee who suffered an accident will recover and report return to work, then the employer is obliged to employ him again in the position he performed.
Another issue if the employee as a result of an accident becomes unable to perform his current work but is able to perform some other work – then the employer has no right to dismiss him, but must transfer to perform this other work. To achieve this, at the latest by 1 day after the end of receiving the 3-month rehabilitation benefit, the employee must obtain a preventive medical decision on the inability to perform work due to an accident – only then he cannot be dismissed by the employer but will be transferred to another job corresponding to his qualifications . In this situation, the employer can only reduce the salary of such an employee (transfer to a lower position), but for the first 6 months the employee will be entitled to a compensatory supplement to the salary – this means that the salary will be the same as before but only for the first half a year.
In summary, it should be pointed out that it is possible to dismiss an employee as a result of his faultless presence at work (illness, accident), but only after the periods specified in the Labor Code in Poland. Dismissal without circumvention of protection periods should be considered unlawful and result in the employee's claims against the employer being updated. In such a case, compensation may also be claimed for night and overtime, as well as to require the existence of an employment relationship to be established, in particular when the employment contract has been concluded orally.
KSJ Legal Law Firm has extensive experience in matters of labor law, including those regarding unjustified or fictitious termination of the employment contract. We advise at every stage of the proceedings, from the preparation of a legal opinion to obtaining a final decision before the court of second instance.
Labour Lawyer Joanna Susło
KJS Legal Law Firm in Wroclaw
Tel. 668-841-990
Advocate – Wrocław – KJS Legal – Lawyer